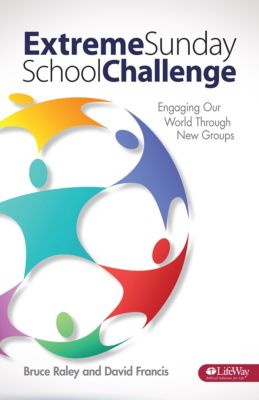 I just finished reading Extreme Sunday School Challenge by Bruce Raley and David Francis.  I don't know about you but I like books that get straight to the point and this is one of those books.  I had the opportunity to sit with Bruce Raley at a recent conference.  I found to be very knowledgeable and passionate about the roll of Sunday School in "engaging our world"  Maybe I like the book because it focuses on the need to start new groups. If you would like to get a copy of the book one can be downloaded here.  It is part of a free conference pack.  You only need to click the first link in the download section and you will receive a pop-up window to download a free pdf version.
I love the definition of Sunday School as "an organization of open ongoing Bible study groups designed to intentionally balance biblical content and biblical community with a view toward producing disciples." (Extreme Sunday School Challenge, page 7)
On page 9, Bruce writes - "Sunday School groups strive to reproduce disciples--who embrace the gospel, live the gospel and take the gospel to other."   Interesting comment.  It almost seems to outline 2 Timothy 2:20-26.  Love to know your thoughts or impression of this short little work on the significance and relevance of small group Bible Study.